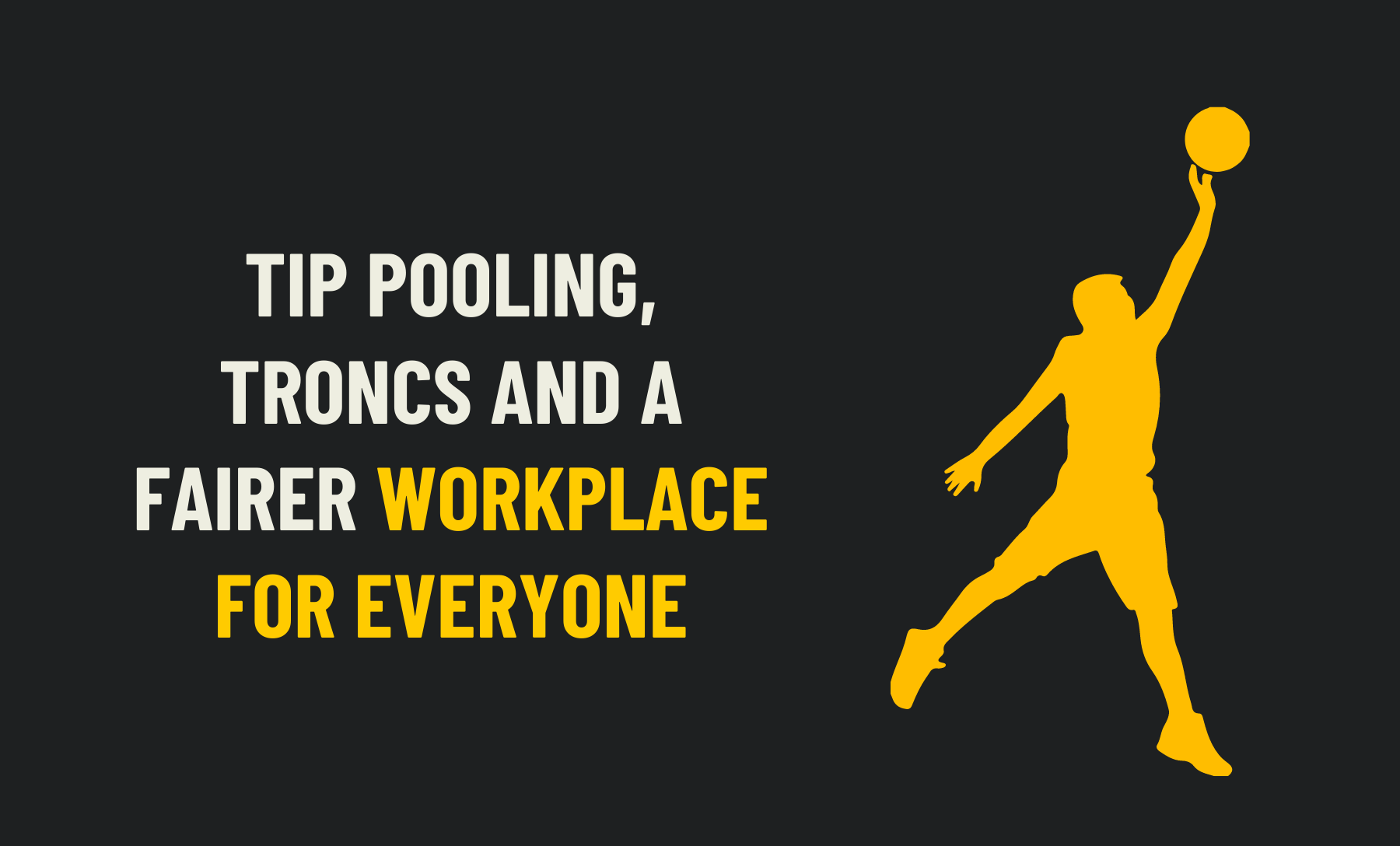 Tip Pooling, Troncs and a Fairer Workplace for Everyone 
Tipping dates from the 18th century, when customers in pubs would attach coins to notes handed to the barkeeper. The purpose of this monetary incentive was "to ensure promptness," hence the term "TIP."
Tipping, like the industries in which it is found, has changed dramatically since then. In fact, few would have predicted the same generosity when enlisting the complimentary services of a hotel concierge or saying "thank you" to a home removal company when those coins were first attached to notes in pubs.
Tipping has unfortunately been subjected to a great deal of criticism and regulation. Employees have not received their fair share in some cases, and businesses have inadvertently implemented tip policies that are neither a reward nor an incentive.
There is, however, tip pooling, which can be a fantastic solution for employees who receive tips on a regular basis. And when such a system is legally implemented under a tronc it can solve and prevent lots of financial and legal hassles too.
What is Tip Pooling?
When a portion of – or all – of the tips collected during a shift are put into one 'pot,' it is known as tip pool distribution. After that, the contents of the pot are redistributed among all employees.
The advantage of a tip pool is that no one is left out; all employees are fairly compensated for their efforts based on the overall level of gratuity provided by customers. It can often reduce competition, especially among servers, and result in better customer service overall (or so we are told by industry experts.)
Tip Pooling and the Law
When it comes to tipping laws in the United States and the United Kingdom, things get a little more complicated. 165,000 businesses in the latter, for example, pay tips to their employees, demonstrating how what was once a friendly 'off-the-record' transaction between customer and server has evolved into a common, monitored form of remuneration.
In the United Kingdom, tip pooling is referred to as a 'tronc,' which is thought to be derived from the French phrase 'tronc des pauvres,' or 'poor box.'
A tronc is a pay arrangement used by restaurants to evenly distribute trips, service charges, and gratuities among their employees. They can be used for tip pooling and tip sharing (or a combination of the two).
Payments made through a tronc scheme may be exempt from National Insurance contributions in some cases (NICs). This is the case if the payment is made in the following manner:
not directly or indirectly allocated to the employee; or
not paid directly or indirectly to the employee and doesn't include or represent wages already paid.
To run a tronc in your company, you should appoint a troncmaster (more on that later) to be in charge of tip distribution. By doing it this way, you'll be able to meet the two requirements listed above while also ensuring that the payments can be made without NIC deductions.
Aside from the odd name, HMRC recognizes a tronc as good business practice, and it is highly recommended if you want to follow the law (and who doesn't?), as well as ensuring that employees are fairly compensated through tips. A good tronc can be key to attracting and hanging onto the best talent, another big plus for your business.
Why is Tip Pooling Fairer?
Consider a busy coffee shop with multiple employees who have varying levels of responsibility.
John is in charge of taking drink orders, which are then forwarded to Jennifer to brew. Lydia and Paul, on the other hand, deliver the order to the table and check in to make sure everything is in order before passing the bill to John, who processes it through the POS.
What happens if a customer tips Lydia? What happens to the rest of the chain? By putting that tip into a pool and evenly distributing it among all team members, everyone is fairly compensated.
Isn't it difficult to argue with logic?
Tip pooling is also recognized by the UK government, and as such is subject to a set of rules (which we'll go over later), ensuring that neither the employer nor the employee can take advantage of the system.
Is Tip Pooling and Tip Sharing the Same Thing?
You might be thinking to yourself at this point, "Well, this just sounds like tip sharing, which we already do." They aren't, however, the same.
Tip pooling is not the same as tip sharing, as it turns out. When tips are distributed among employees at a set rate for each person, it is referred to as tipping out  in the United States (how long before that term makes its way over here?).
These rates are usually defined by the employer as a percentage of the total tip pot, broken down by tips, sales, or category receipts.
Tip sharing and tip pooling aren't seen as adversarial; they can coexist peacefully in the same business.
In Tip Pooling, How Should Tips be Distributed?
So, you'd like to start a tip pooling program at your company, but how do you distribute the funds fairly?
Thankfully, there are a variety of tip distribution methods to choose from, the benefits of which will vary depending on your operation and how your team is set up to work.
Worked hours This is a method of evenly distributing all tips across the entire staff based on the number of hours worked. So, if you have £1,000 in tips and your team worked 1,000 hours, they will each receive £1 for each hour worked.
Percentage based on the number of hours worked. You can distribute the pool according to a percentage associated with each role. For example, if the tip pool is £1,000 and the waiting staff receives 5% of the total tips, the waiting role will receive £50 in tips. Each employee in that bracket is then paid a percentage of the funds based on the number of hours they worked.
Percentage, regardless of the number of hours. This is the same as the previous method, but it divides the tip pool evenly among the team members based on a predetermined percentage based on their role, regardless of how long each person worked. Regardless of the time of day. This eliminates all percentages and evenly distributes the tip pool among all players, regardless of other factors.
The percentage method is the most popular method above, regardless of the number of hours. The best method for your business, however, is determined entirely by the makeup of your operation, your own attitudes toward tipping, and how your team is most likely to be motivated.
The Advantages and Disadvantages of Tip Pooling
Not convinced that tip pooling is a good idea? It isn't appropriate for every business, which is why we'll summarize the main benefits and drawbacks of this method of tip distribution
Advantages of Tip Pooling
Here are some reasons why you might want to use tip pooling:
It promotes teamwork because, by pooling tips, each employee will realize that their unique role in the overall process is valuable to customers, but that they can't do their part without the help of others;
It eliminates table conflict, in which two or more servers argue over who deserves a tip based on the amount of time they spent dealing with a specific table; and it reduces income inequality by evenly distributing all tips among the front of house team, effectively eliminating disparities in earnings.
The Disadvantages of Tip Pooling
If you're concerned about the following, your fears about tip pooling may be realized:
Resentment among the best-performing wait staff: why should they receive the same amount of tips as others when they are clearly doing more?
A drop in service quality – could a tip pool relieve the pressure to serve to your best ability if you're a member of the waiting staff who knows the quality of your service is determined by the total tips you receive?
Low performers are rewarded – is it really fair that Sarah, who has consistently performed poorly during a given month, receives the same level of tips as Dave, who has smashed it?
Tip pooling is a great way to fairly compensate employees, but it comes with its own set of issues. Each business will have its own too. Overall however, many find it's the best way to go.
How to Keep Your Employees' Tips NI and VAT-free Via a Tronc
Employers must comply with the Income Tax (Pay As You Earn) Regulations 2003. This means you must notify HMRC if you have a tronc that was created on or after April 6, 2004. Furthermore, you must supply the name of the troncmaster and keep it up to date at all times.
When you're establishing a tronc, you should keep the following in mind.
Confirm that there is a system in place for sharing tips, and figure out what it is.
Determine how the tronc will be paid (for example employees paying in cash tips or an employer paying in credit card tips)
Who and how does the tronc money get held (is there a tronc bank account, and if so, who manages it?)
What is the basis for tronc distributions, and who decides what that basis is?
Which employees are members of the tronc?
Whether the troncmaster accepts and comprehends his or her role (including the obligation to operate PAYE)
Choosing a Troncmaster
Establishing a tronc means choosing a troncmaster. This is something that HMRC insists upon, but has specific rules about. A troncmaster has to be independent of management. They can be an employee, but that often leads to big trouble, both in terms of distrust by other tipped staff and if they leave.
There is a growing demand for troncmasters who are not employees of the company and thus cannot be influenced by their boss. Businesses value someone who is up-to-date on tronc rules and acts fairly and ethically – without bias, favoritism, or personal friendships or motivations.
This is where Pearl Lemon Accountants can be a big help. Not only can we guide you through setting up your tronc, but also we can act as troncmaster, ensuring that everything remains fair, consistent and is compliant with HMRC regulations. We take care of the tips, you take care of the customers. Contact us today to learn more!
FAQs
How common is tip pooling?
Tip pooling is not as common as one might believe in restaurants. Only 45% of restaurants today participate in tip pooling, which applies to restaurants of all kinds. 
What is a valid tip pooling arrangement?
Proper tip pool arrangements are regulations that surround the tip pooling concept. For example, with tip pooling, the employee is obliged to receive the minimum wage for their region. 
This means that between their tips and salary, they should be reaching the minimum wage limit; if this does not occur, the employer is obligated to make up the difference.
If you would like more specific information, feel free to book a call with our experts!
Can a manager participate in a tip pool?
No, they cannot. Supervisors and managers are not allowed to participate in tip pools, and they are not allowed to claim any portion of an employee's tips as their own.